The race for an affordable electrified car has begun and, together with us, you can be in pole position

Electrified vehicles are fast becoming part of our daily lives. At the forefront of this important revolution, Umicore is collaborating with key players in the market to find the most viable solutions. The automotive industry confronts formidable challenges, including cost/performance ratio, fast charging and uncompromising safety. Today, Umicore offers its customers the best product portfolio to meet these needs.
Vehicles with different degrees of electrification are recognized by the market as being the biggest growth area for Li-ion batteries for the years to come. Now, Umicore materials can be found in dozens of electrified cars that are on the market today.
Our success is not only due to the outstanding performance of our materials. Also in fields apart from rechargeable batteries, Umicore has proven itself to be able to meet the needs of the most demanding industry worldwide: the automotive sector. Umicore is one of the three main players in gas exhaust treatment systems. Cars worldwide are equipped with various Umicore materials for night vision systems, magnets, tires and paints. Finally, Umicore has the financial strength and up-scaling know-how to self-assuredly respond to the growth of the global market.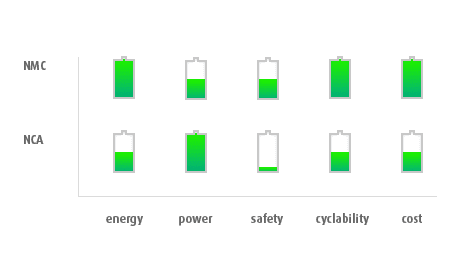 To meet the diverse nature of battery requirements from hybrid to full electric vehicles, we have developed a wide portfolio of products: NMC and NCA as the platform of choice for EV, requiring high energy, and NMC as potential platforms for HEV, requiring high power.